RENT A VAN - FILL IN THE DATA TO CALCULATE THE PRICE - RESERVATION AND PICK UP 24/7
SIMPLE, CLEAR AND FAST RESERVATION SYSTEM. DAILY KM LIMIT PACKAGE FOR FREE. NO PARKING FEE FOR YOUR VEHICLE DURING THE RENT DURATION

VANS FOR EVERYONE
We offer vans from the smallest Opel Combo, Vivaro Van through Movano L2H2, L3H2 to Movano Eurobox and the largest Movano 10 palletes with tarpaulin.
FROM THE INTERNET RIGHT BEHIND THE WHEEL ! ONLINE BOOKING ! CASHLESS DEPOSIT ! PICK UP 24/7 !
ALL OUR VANS IN CATEGORY UP TO 3,5t FOR DRIVING LICENSE TYPE B.
Our benefits

We rent cars as of 1 hour. We offer an online preview of avaiable fleet. Pick up and return van at any time of the day / night as you book in the reservation. No cash deposit. Free daily km limit package.

Easy registration and booking system

To rent a van, you only need to check the availability, register and fill in the reservation form. Payment by credit card.

Our prices - no hidden fees

The rental amount is automatically calculated by our reservation system based on your requirements. Our system is transparent, you pay for the services you order. Vans are insured, in case of an insured event you are liable up to the amount of selected participation.

Booking of vans in a real time

Need a van today, tomorrow or in 14 days ? Just check our system for our fleet availability. In case of a special request, questions, please contact us.

WOULD YOU LIKE US TO GIVE COU CALL BACK IN ENGLISH ? JUST SEND US A REQUEST THROUGH OUR CONTACT PAGE.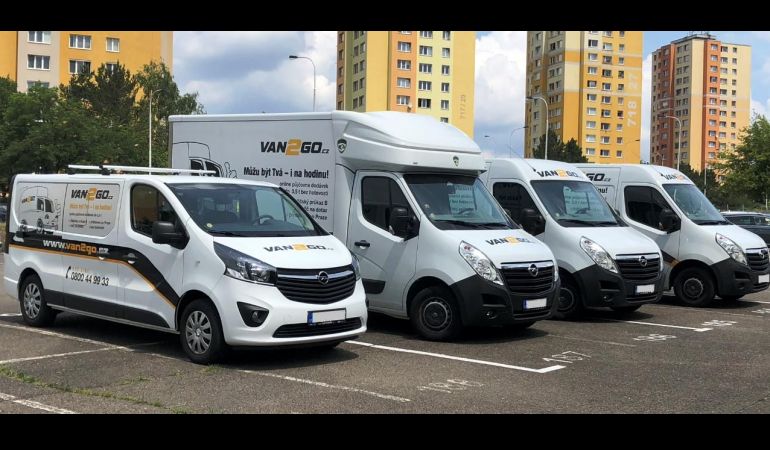 There are 17 visitors on the site at the moment